Hancock Lobster: Beyond the Crustacean
They have been making lobster stew in Cundy's Harbor for much longer than a decade (trust me, half my family lives there) but Cal Hancock's recipe is what put this quiet spot on the New Meadows River on the national culinary map. Hancock Gourmet Lobster was born in 2000 and is spending 2010 marking its anniversary by offering reduced Second Day shipping rates, showcasing its now expansive product line — including Port Clyde lobster mac & cheese, lobster pot pies and Orr's Island oyster stew – and chronicling all of the fun on the company's blog.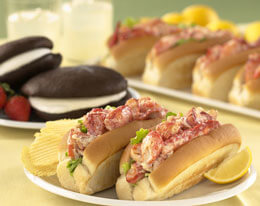 A lot of places do mail-order lobster in the state, but Hancock has become a gourmet Web mecca for Maine foodies-from-away. Where else can you get a whoopie pie/lobster roll combo, fruit crisps featuring raspberries, blueberries and strawberries and Robinhood Free Meetinghouse's 72-layer cream cheese biscuits? If you find one, tell me.
Jessica Strelitz is a contributing writer to Maine Food & Lifestyle magazine.