Husk Cherry Waldorf Salad
After a recent lunch at Chase's Daily, I wandered back to browse the selection of fruit, vegetables, and flowers delivered fresh from the Chase family farm. The restaurant receives well-deserved praise in the new issue of Maine Food & Lifestyle; not only are their vegetarian meals delicious, but thanks to the light streaming in the tall windows, the hand-lettered signs, and the rustic bins, more photogenic produce cannot be found.
Among the sunflowers and herbs, I discovered husk cherries. I couldn't resist this adorable, unfamiliar fruit so I brought home a pint, though I had no idea what lay inside their papery skins.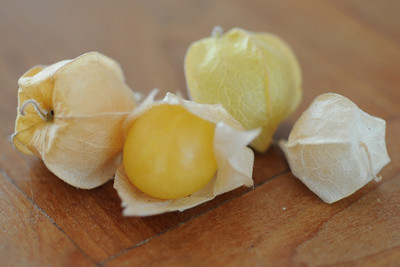 Also called ground cherries or cape gooseberries, husk cherries are closely related to tomatillos. Tender and full of small seeds, they resemble cherry tomatoes in texture. Husk cherries possess a unique flavor with elements of vanilla, pineapple, citrus, and yellow cake. They're sweet as candy inside their delicate wrappers.
If you stumble across husk cherries, pick up a pint or two. They would be lovely in a fruit crisp or clafoutis. In this simple variation on the Waldorf salad, they're sweet enough to stand in for apples and raisins. If you can't find husk cherries, grapes or chopped sweet apple would be the next best thing.
Husk Cherry Waldorf Salad
1 cup walnuts
3 stalks celery, thinly sliced (1 cup)
1 pint husk cherries, husks removed and halved (a generous cup)
2 Tablespoons sliced shallot
½ cup vanilla soy yogurt
2 Tablespoons lemon juice
Green or red leaf lettuce, chopped (optional)
In a dry skillet over medium heat, toast walnuts for 3-5 minutes, stirring constantly, until they become lightly browned and fragrant. Allow walnuts to cool, then combine with celery, husk cherries, and shallot in a medium bowl. In a small bowl, whisk together yogurt and lemon juice. Pour dressing over salad and stir gently to combine. Serve over lettuce if desired.
Serves 2 as a main dish, 4 as a side.