Lobster Pot Pie
Chicken pot pie and lobster, two of my favorite foods, so why not merge the two and make something special like a lobster pot pie? My friend Pam makes the best chicken pot pie ever, and I am lucky enough to have her recipe, so that seems a good place to start. In looking over the ingredients, all will work, but I am going to change the vegetables, eliminating celery and carrots and including corn and potatoes since they traditionally accompany steamed lobster. Hmmm, maybe add a little dry sherry for extra pizzazz.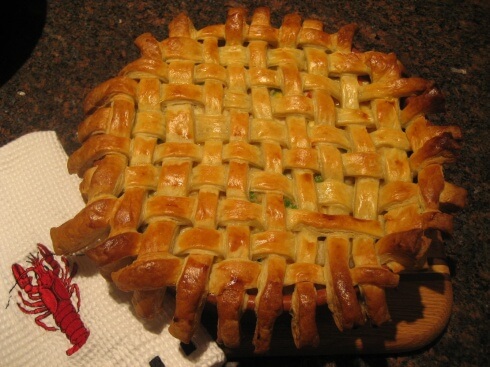 Lobster Pot Pie
Linda Lewis, Lulumusing.wordpress.com
3-4 cups lobster meat
1½ cups chopped onion
½ cup dry sherry
2 cups seafood stock (may be purchased)
1 cup green peas
2 cups red or white potatoes, cut into cubes
1 package pie crust or puff pastry
½ cup unsalted butter
½ cup flour
1 cup half and half
1 cup corn kernels (fresh or frozen)
1 Tablespoon herbes de Provence
Steam lobsters and remove all tail and claw meat. (Packaged lobster meat will also work.) Cook potatoes in salted water until fork tender. Drain and set aside in a large bowl. Sauté onion in melted butter til translucent; add sherry and cook for one minute on high heat. Add flour and cook for an additional minute over medium heat. Whisk in seafood stock and cook about 4 minutes or until thickened. Whisk in half and half and cook 3-4 minutes. Mixture should be thick and of a smooth consistency.
Remove from heat, add ¼ teaspoon nutmeg and salt and pepper to taste. Combine lobster, peas and corn with potatoes; fold in sauce. Place one pie crust in bottom of baking pan and pour in mixture. Place remaining crust on top and brush with egg wash (egg + 1 teaspoon water). Bake at 400° for 20-25 minutes or until crust is lightly browned. Note: With either pie crust or puff pastry, the bottom crust can be optional.
All that is needed with this tasty dish is a green salad. Then, sit back and wait for the compliments!
MF&L Staff at Maine Food & Lifestyle magazine.