Millet: a Nutritious, Versatile Gluten-Free Grain
Millet doesn't get a lot of attention in this country, where it's used primarily as birdseed. If I hadn't been forced to look for gluten-free alternatives to couscous, I might never have discovered this wholesome grain. Rich in B-vitamins, with a nutty, whole-wheat flavor, millet has been a staple grain in Asia for millennia. It pairs well with sweet winter squash and yams, and with Earthy flavors like onion and mushroom.
Plain millet is prepared just like rice. A 2:1 liquid to grain ratio yields soft, fluffy results. When cooked with additional liquid, millet becomes sticky enough to form into hearty grain-and-vegetable patties.
I like to serve these cakes on a bed of sautéed kale or hearty salad greens. They are also wonderful with mashed potatoes and mushroom gravy.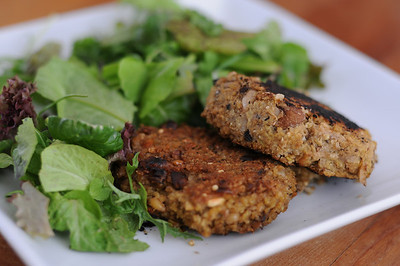 Mushroom and White Bean Millet Cakes
3 cups water or vegetable broth
1 cup millet
1 bay leaf
1 cup cooked cannellini beans
4 Tablespoons olive oil (divided)
4 cloves minced garlic (2 teaspoons)
1 cup sliced leeks (white and light green parts)
1 teaspoon dried thyme
½ teaspoon dried sage
2 cups sliced mushrooms (try baby portobello)
½ teaspoon salt
1 Tablespoon lemon juice
½ cup chopped walnuts
Black pepper
Rinse the millet in a fine sieve. Bring vegetable broth to a boil in a medium pot. Add millet and bay leaf. Cover, lower heat to medium-low, and cook 20-25 minutes. While millet is cooking, place cannellini beans in a large bowl and mash with a fork. When millet is puffy and sticky and broth is absorbed, remove bay leaf and add millet to the bowl with the mashed beans.
While millet is cooling, warm 2 Tablespoons olive oil in a large pan over medium-low heat. Add garlic and sauté 1 minute. Add leeks, thyme, and sage and sauté 6-8 minutes, until leeks are soft. Add mushrooms and salt, and cook another 3-4 minutes, until mushrooms have released their liquid.
Add leeks and mushrooms to the millet, along with the remaining 2 Tablespoons olive oil, lemon juice, walnuts, and pepper. With a large spatula or your hands, toss until ingredients are well combined and evenly distributed.
Using a ½ cup scoop, form mixture into 8 patties. Coat a large skillet (cast iron is best) with vegetable oil and bring to medium heat. Cook millet cakes 5 minutes on each side, until browned.
Serves 4.
Mary Lake is a writer, teacher, columnist for MF&L, and vegetarian blogger: Mitten Machen.