Bok Choy, from Farmers' Market to Picnic Table
This week at the Orono Farmers' Market, the hot item was neither rhubarb nor asparagus. Bok Choy, the leafy, versatile Chinese cabbage, made its first appearance of the summer and was eagerly snatched up.
These undeniably cute bunches of broad, dark green leaves are rich in calcium, vitamin C, and other nutrients. Like other types of cabbage, bok choy is well-suited to soups, salads, and stir-fries. Its mellow flavor pairs best with other mild vegetables, grains, and seasoning. Grill or sauté bok choy with a little garlic and ginger, or simmer it in a mellow broth with mushrooms, tofu, and wheat noodles.
In this easy dish, bok choy plays a role usually reserved for green cabbage. The white stalks retain their crunch, while the dark green leaves and shredded carrots absorb a slightly sweet sesame-ginger dressing. It's perfect picnic food, best when chilled for a few hours before serving.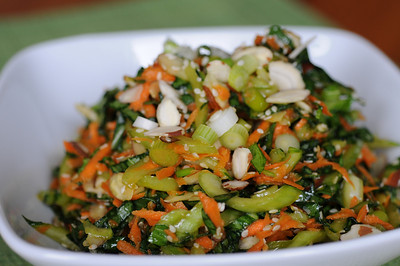 Sesame-Ginger Bok Choy Slaw
8 cups shredded bok choy (4 heads)
1½ cup shredded carrot (3 medium)
¼ cup chopped green onion
½ cup sliced almonds
3 Tablespoons sesame seeds
Dressing:
4 Tablespoons vegetable oil
2 Tablespoons rice vinegar
2 Tablespoons sugar
1 Tablespoon soy sauce or tamari
1 Tablespoon toasted sesame oil
¼-½ teaspoon freshly grated ginger
Toss the bok choy, carrot, onion, almonds, and sesame seeds in a large bowl. In a separate bowl, whisk together dressing, adjusting ginger to taste. Pour dressing over vegetables and toss to distribute evenly. Serve immediately, or chill to allow flavors to develop.
Serves 6 as a side dish.
Mary Lake is a writer, teacher, columnist for MF&L, and vegetarian blogger: Mitten Machen