Linda Greenlaw's Corned (Salted) Hake
This is a very old Maine recipe that comes from the days when fish was salted (or corned) to preserve it. The first time I tasted corned hake was several years ago when the captain of a commercial fishing boat fixed it as a special treat for his crew. (This was a memorable occasion itself, because it's rare that a captain actually cooks.) He started with a fresh hake, which he buried in a pound of table salt for a day or so. The corned fish then gets "freshened" in several changes of water to remove most of the excess salt, then cooked. If you can't get your hands on a hake, any salt fish, such as salt cod, will do just fine.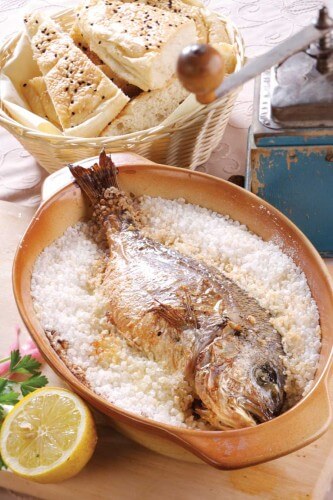 Corned Hake
Linda Greenlaw, Recipes From a Very Small Island
2 pounds heavily salted hake fillets
2 medium onions, chopped coarse
1 cup apple cider vinegar or other vinegar (anything but balsamic)
¾ cup finely diced salt pork or fatback
3 pounds potatoes, peeled and cut into 2-inch chunks
Unsalted butter
Freshly ground black pepper
Soak the corned hake in water to cover overnight to freshen, changing the water three or four times. In a small bowl, combine the onions and vinegar. Set aside at room temperature.
Cook the salt pork in a frying pan over medium heat until it renders its fat and browns, about 10 minutes. Leave in the pan and reheat gently when ready to serve.
In another skillet, cover the fish with water, bring to a boil, reduce to a simmer, and cook gently until it flakes, about 15 mintues. Drain when ready to serve. Cook the potatoes in boiling salted water until tender, about 15 minutes.
When ready to serve, mash a serving of potato on your plate with a fork and top with butter as you like. Place some fish on top of the potato. Top the fish with a few spoonfuls of pork bits and grease. Top the whole works with the vinegared onions and plenty of black pepper.
Serves 6.
Linda Greenlaw is a bestselling author, cookbook author, swordboat captain, and Isle au Haut resident.