Curried Carrot Salad with Apple Cider Vinaigrette
This time of year, incorporating crisp, fresh vegetables into your diet can be a challenge. Local winter squash and root vegetables are plentiful, but the greens of summer are dormant, and the produce at the grocery store is usually dull and limp after its cross-country voyage.
This is also the time of year when many of us begin to feel lethargic. Surely, the vitamins in fresh produce can help combat our malaise. But how are raw winter vegetables to compete with rich, luxurious holiday comfort food?
Texture is the key. You may be bored with carrot sticks, but how about paper-thin carrot ribbons, paired with raisins, cashews, and a tangy apple cider vinaigrette?
Craving something fresh and light after a heavy Thanksgiving meal, I created this quick salad using ingredients I had on hand. The recipe is flexible and forgiving: try sliced almonds instead of cashews, chopped apple instead of raisins, orange juice instead of apple cider. Scale the curry seasoning up or down, according to your taste. For a healthy, protein-packed lunch, try this salad atop cooked, chilled quinoa.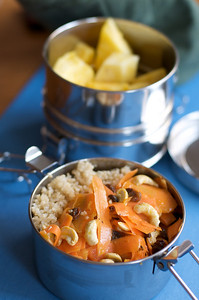 Curried Carrot Salad with Apple Cider Vinaigrette
2-3 large carrots
¼ cup raisins
½ cup raw cashew halves
2 Tablespoons vegetable oil
2 Tablespoons apple cider
1 Tablespoon apple cider vinegar
½ teaspoon curry powder
½ teaspoon freshly grated ginger
Dash of cinnamon
Salt
Black pepper
Use a vegetable peeler to slice carrots into broad, thin ribbons. When the center of each carrot gets too delicate to peel, set it aside (you can munch on these while you prepare the dressing). Place carrots in a medium bowl with the raisins and cashews.
Whisk together oil, cider, vinegar, curry powder, ginger, and cinnamon. Toss the dressing with the carrot mixture and taste; stir in salt and pepper if desired.
Place salad in refrigerator and chill for at least 1 hour, until raisins are plump.
Serves 2.
Mary Lake is a writer, teacher, columnist for MF&L, and vegetarian blogger: Mitten Machen.