Pulao Rice with Fresh Green Peas
The first peas of summer have arrived, firm, sweet, and adorably plump. I couldn't resist popping a few pods open and snacking on raw peas all the way home from the farmers' market. There are many recipes for pulao, a North Indian rice dish that can feature any vegetables you have on hand. In this one, mellow seasoning allows the sweetness of fresh peas to shine through. The peas are added raw, at the end of cooking, so they're warmed through but not mushy. They should still pop in your mouth with each bite.
Pair this side dish with dal, or turn it into a meal by adding a cup of chickpeas. Use frozen peas if fresh aren't available, but toss a handful of raisins in along with them for some sweetness and pizzaz.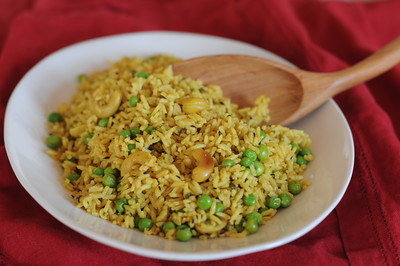 Green Pea Pulao
1 Tablespoon olive oil 1 teaspoon cumin seeds 1 teaspoon minced ginger 1 jalapeño, minced and seeded ¼ cup raw cashews 1 cup basmati rice ½ teaspoon cinnamon ¼ teaspoon turmeric ½ teaspoon salt 2 cups water 1 cup freshly shelled green peas
Warm oil in a medium pot over medium heat. Once hot, add cumin seeds. Stir until the seeds begin to brown, 1-2 minutes.
Add the ginger, jalapeño, and cashews and stir another 1-2 minutes, until nuts are lightly toasted.
Add the rice, cinnamon, turmeric, and salt and stir over heat for 2 minutes.
Add water and bring to a boil. Reduce heat to medium-low and cover.
Check rice after 8-10 minutes. When most of the water has been absorbed, add peas and stir to incorporate. Turn off heat, replace cover, and let sit undisturbed for 10 minutes.
Serves 4.
Mary Lake is a writer, teacher, columnist for MF&L, and vegetarian blogger: Mitten Machen