Cheesy Beer & Bratwurst Soup
Kachoo! If you are having one of those sneezing, coughing, aching, sore-throat kind of days, then read on, my friends. We know there is no documented cure for the common cold, but we do know that a steaming hot bowl of "Jewish Penicillin" (aka chicken soup) most assuredly offers us comfort as we battle a winter cold.
Homemade soup is one of my favorite things to prepare. There are some decent commercially prepared stocks that are readily available in most supermarkets if you don't have the time, energy or ingredients to prepare a batch from scratch. Always look for those labeled "reduced sodium" and "no msg" for the best flavors. Then you can pretty much clean out your vegetable drawer and pantry and add whatever seems like a good combo. Pasta, rice and potatoes are also good additions but I recommend cooking these high starch ingredients in a separate pan and then adding it to the soup pot.
If you've gotten a little too heavy handed with the salt when making a pot of soup, don't despair. You can easily rescue your too salty soup by adding a few slices of peeled, raw white potato. Boil the soup for 5 or 6 minutes – remove the potato slices and you'll remove the excess salt. To easily de-grease soup, transfer it to a bowl and place in the refrigerator for at least an hour or so. The fat will rise to the surface and harden. You can easily skim it off with a large spoon.
If you like a thicker soup or chowder and don't want to dilute the flavor by adding a thickener (like flour or cornstarch), toss a couple of slices of good quality white bread (crusts removed) into the food processor to make fine crumbs. Add crumbs to hot soup and stir well. The crumbs will dissolve into the stock and thicken it.
Another thickening method is to scoop out a cup (more or less depending on the amount of soup you've made) of the solids (potatoes, pasta, veggies, meat, fish, whatever) and place in the work bowl of your food processor. Add just enough liquid from the soup to easily purée the solids. Add back to the soup pot and VOILA! You have thickened your soup without sacrificing any flavor.
So if your winter cold is lingering (and even if it isn't!) and you grimace at the thought of yet another "dose" of chicken soup, how about a walk on the wild side with a steaming bowl of hearty, cheesy, garlic-y bratwurst-y soup?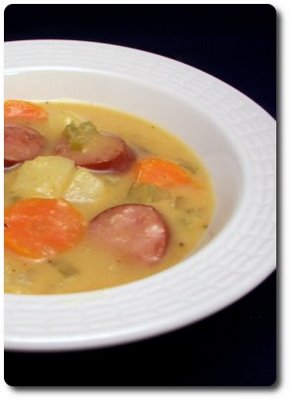 Cheesy Beer & Bratwurst Soup
Paula Anderson
3 Tablespoons olive oil
1 cup finely chopped onion
2 cloves garlic, peeled and minced
1 cup finely chopped celery
1 cup thinly sliced carrots
¼ cup all-purpose flour
4 medium potatoes, peeled and diced
6 cups low sodium chicken broth
12 ounces Heineken beer
½ teaspoon mustard powder (like Colman's brand)
½ teaspoon salt
½ teaspoon freshly ground black pepper
½ cup half and half
¼ teaspoon Worcestershire sauce
2 cups grated sharp white cheddar cheese
3 bratwurst sausages, cooked and sliced
Place olive oil in a Dutch oven set over medium heat. Add onion, garlic, celery, and carrots and cook, stirring often, for 12-15 minutes or until tender but not brown. Stir in flour and cook 1 minute.
Add potatoes, broth and beer. Increase heat to high and bring to a boil. Reduce heat to medium-low and cook 8-10 minutes or until potatoes are just tender. Add mustard, salt, pepper, half and half and Worcestershire sauce and stir to combine. Remove pan from heat.
Add the cheese a little at a time, stirring until melted and smooth. Ladle out about 2 cups of vegetables with some of liquid and place in blender or food processor. Purée and stir back into Dutch oven with the rest of the soup set over low heat. Add sliced bratwurst and cook for 5 or 6 minutes or until hot.
Yields 10-12 servings.